As promised, here's my more in depth discussion of the
Ron "Buss" Patterson
commitment.
Patterson is the kind of player that 'gets' what it means to be a Hoosier basketball player. He is an Indianapolis guy whom Crean has been recruiting since he first got to Bloomington. IU was the first school to offer a scholarship to Buss back during his freshman year at Broad Ripple and the early start ultimately paid off for Crean (who was personally recruiting Ron throughout). Patterson is a four-star prospect on Rivals and ranked as the 10th best shooting guard in the country (65th overall). He's got a 6'9 wingspan and he's very athletic (watch as he
rises up
). In a time where a lot of the state's top talent has been crossing the borders for college ball, Patterson's decision to stay home is a huge step for the IU program. Talents like Patterson and Etherington playing at their 'home school' is great for Indiana basketball and will help lure more of the top talent to stay at home, as well. This is especially important in a loaded 2012 Indiana class, which now includes top IU target Hanner Perea.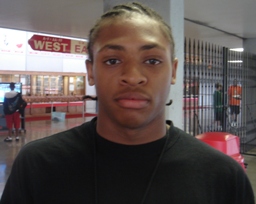 An important role Patterson will play through his final two years of high school is recruiter. Like Austin Etherington has been doing, Buss said he would try to convince some of his buddies to follow him to Bloomington. One of his most important buddies is
Jeremy Hollowell
, the #35 prospect in the 2012 class who recently stated that he had narrowed his list down to just IU and Ohio State. Hollowell is a 6'6 wing who has star potential written all over him. He's a future pro that will have a huge impact on IU basketball, even if he only sticks around a couple years.
The commitments from Patterson and Peter Jurkin are encouraging for Hoosier Nation and may very well cause a domino effect. There a number of prospects that seem close to pulling the trigger, including Hollowell, Perea and top 2011 priority
Cody Zeller
. Also high on the Hoosiers is
Yogi Ferrell
, a good friend of Etherington's and Zeller's. This could really be the start of something special for the Hoosiers and it is very fair to argue that if IU were able to land these top talents they could be considered a legit Final Four threat just a few years down the road from now.
Patterson quotes (courtesy Peegs):
"I like IU a lot, I like Coach Crean, and I want to be with friends."
"My buddy Jeremy (Hollowell), he should be thinking about it."
On Coach Crean's reaction: "He started going crazy."
Assorted video:
Patterson highlights
(music has some language)
Zeller highlights
Hollowell highlights