A pair of coaching changes have left two former Indiana basketball recruits with some uncertainty. The University of Arkansas announced yesterday that head coach John Pelphrey was
being dismissed
with three years left on his contract. Pelphrey led the Razorbacks to a 69-59 record in his 4 years at the helm and was recently the subject of an
NCAA investigation
regarding contact that he made with two high school junior prospects.
Then today, Oklahoma University fired head coach Jeff Capel after back-to-back losing seasons. Capel was unable to get the Sooners back on the winning track after the departure of star Blake Griffin two years ago.
Normally, these two stories would hold little importance to Indiana basketball. However, when a coach is let go there is always speculation as to what the current players, and more importantly the current recruits, will do.
(Continues after the jump!)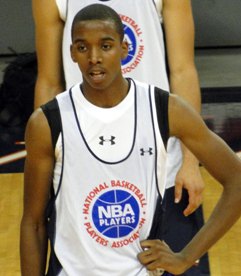 Inside The Hall
Pelphrey put together an impressive recruiting class for next year, headlined by point guard
BJ Young
. Young was rumored to be favoring the Hoosiers back in August but ultimately signed with the Razorbacks, citing (among other things) a desire to play near family in Arkansas. There were rumors that Young may be facing some academic issues, something that Tom Crean has made a point to steer clear of as he rebuilds this Hoosier program. There were also rumors that the current players did not particularly care for Young, which would make him hard to play with and could effectively waste all of his basketball talents. Young would be a great player to have, considering his position and skill level, but if he can't get his grades up or get along with the players then it is just not worth it. Of course this is based on speculation rather than fact, so it will be interesting to see if anything shakes out with Young in the coming weeks.
Rivals.com
The Hoosiers have a more realistic chance of snagging one of the current Sooner recruits in
Robert Goff
, a JUCO transfer from Hutchinson CC in Kansas. Goff had Indiana is his top three before deciding on Oklahoma and had planned to visit Bloomington before making a decision. Goff has Indiana ties because he is originally from Indianapolis and played high school ball at Broad Ripple. The 6'9" power forward is currently the only member of the Sooners' 2011 class. He would be a fantastic addition to the Hoosier lineup as he fills one of the biggest needs.
As I said
with
Jamari Traylor
, Goff could be the key to filling out the IU front court next season. The difference here is that Goff already has two years of college basketball under his belt and would come to Bloomington as a junior looking to start from day 1.
Cody Zeller
is obviously a HUGE piece of the puzzle moving forward, but he may not be able to contribute next season the way that Goff could.
Both Goff and Young have signed letters of intent with their respective schools, so if they were inclined to change schools they would need to be released from their commitments before making any further decisions. Nothing has happened as of yet with either player, and I can't say that anything will ever change with them. I do, however, know that we probably will not be hearing anything until after Capel's and Pelphrey's replacements have been hired and have had a chance to talk to the players. Of course, we will keep you updated on anything that happens this off-season.