Reports are surfacing from numerous outlets (including
Louisville C-J
,
Inside The Hall
, and
Bloomington H-T
) that Hoosier legend Calbert Cheaney will be returning to the Indiana basketball program in an operations position. While nothing is yet official, all signs seem to point to this hire happening in the very near future. Here's what Tom Crean had to say about it today:
"I'm not ready to make any official announcement yet but you can say that I'm extremely excited about the future of our basketball staff" - Coach Tom Crean
Cheaney, an Evansville-native, is one of the all-time Hoosier greats. In his four years in Bloomington, Calbert scored 2,613 points and remains the Big Ten Conference's all-time leading scorer. He was a three-time All-American, one of few Hoosiers to accomplish this, and swept the National Player of the Year Awards in 1993, taking home the Wooden, Naismith and many others. Cheaney is also recognized as the Hoosier with the most career wins (105).
After a 13-year career as an NBA player, Cheaney spent the last two seasons as a special assistant to the Golden State Warriors.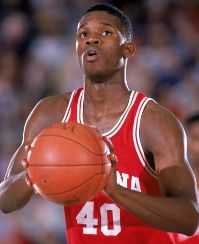 InsideTheHall.com
Needless to say, Cheaney will be welcomed with open arms upon the announcement of his hiring and should make an immediate impact with recruiting and current players. Though he will be in an operations position, I am sure he will spend time working with players in practice. Having a mentor like Cheaney could do wonders for players like Christian Watford and Jeremy Hollowell especially.
This news comes just about a month after Drew Adams left for New Mexico, so it is possible that Cheaney would take over those duties.